The L-3 EOTech OPMOD MPO II EXPS2-0 with 3x G23 Magnifier, Tan is available exclusively from OpticsPlanet! We have teamed up with EOTech once again to offer another EOTech (OpticsPlanet MODification) combination birthed from the input of tactical consumers and developed by the world class marketing and engineering teams from L3 EOTech in conjunction with OpticsPlanet! The limited edition OPMOD MPO III EXPS2 with G23 Magnifier is a tan package that pairs the G23 with an EOTech EXPS2-0 65 MOA ring and 1MOA dot Reticle HWS. This one of a kind solution is ideal for close quarters combat scenarios, featuring a flip-to-side magnifier mount that allows you to engage short range targets or medium range targets with an extremely quick flip of the magnifier!
OPMOD EOTech MPO 3 Holosight and G23 Magnifier is made for instinctive two-eyes shooting operation and includes a 7mm riser for a lower 1/3 cowitness with iron sights. The OPMOD MPO III is night vision compatible red dot combination package in a tan color that is ideal for desert combat operation, and can withstand the toughest conditions and usage over long periods of time. Additionally, you can use any EOTech red dot sight with the included flip to side mount, and within seconds you can use the G23 3x magnifier with your other rifle thanks to the quick detach mount function.
The OPMOD EOTech EXPS2 MPO 3 features an incredible battery life of approximately 600 hours with a transversely mounted lithium 123 battery. The unique structure of the OPMOD EXPS2 MPO III only requires 2 3/4 inches of rail space. With the 65MOA ring and 1MOA dot reticle, the Tan Eotech OPMOD EXPS2-0 MPO3 is a unique combination at an unbelievable value. Including the holosight, flip-to-side G23 magnifier with OPMOD logo, 7mm riser, FTS mount, adjustment tool, and user manual, you have everything you need for tactical dominance.
---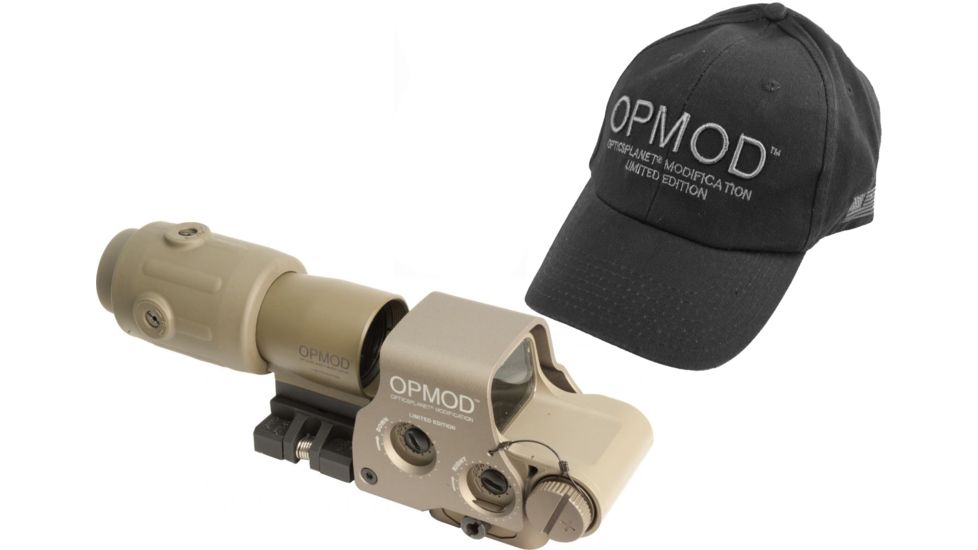 EOTech OPMOD MPO III EXPS2-0 Holo Sight with 3x G23 Magnifier - 65 MOA ring and 1MOA dot Reticle, Tan
RATING
94 /100
Design

Excellent

Performance

Excellent

Value for money

Excellent

Feature

Excellent
Specifications for L-3 Eotech EXPS2-0 OPMOD MPO III Holographic Sight with G 23 Magnifier:
Operation
Optics:
Transmission holography - parallax free
Magnification:
1x
Eye Relief:
Unlimited
Length/Width/Height:
3.5"x2.4"x2.8" (91.4X 60.9x71mm)
Weight:
11.2 oz (317grams)
Temperature:
-40 to 150 F
Waterproof:
Submersible to 10 ft depth
Sealing:
Fogproof internal optics
Color/Finish:
Non reflective black with hard coat finish
Adjustment (per click):
0.5 MOA (1/2" at 100 yds)
Adjustment Range:
+/- 40 MOA travel
Mount:
1" Weaver or (MIL-STD-1913) rail. Adjustable for width variation
Return to Zero:
Repeatable to within 2 MOA after re-mounting
Heads-Up-Display Window
Optical Surfaces:
Anti-glare coating
Window Dimensions:
1.20" x 0.85" (30 x 23mm)
Front Window Material:
1/8" solid glass
Rear Window Material:
Shatter resistant laminate (3/16" thick)
Field of View (100 yds):
30 yds (28m) at a 4" eye relief
Reticle Options:
65MOA ring with two 1MOA dots
Electrical
Brightness Adjustment Range:
146,000
Night Vision Brightness Range:
1280
Power Source:
(1) CR-123 lithium battery
Battery Life:
600 continuous hours at nominal setting 12
Brightness Settings:
20 settings with scrolling feature
Auto Battery Check Indicator:
Flashing reticle upon start-up
Auto Shut-down:
At 8 hrs- programmable to 4 hrs
Magnifier
Magnification Fixed:
3.25X
Eye Relief:
1.97" (50mm)
Length:
4.6" (117mm)
Weight:
11.9oz (372 grams)
Temperature:
-40 to 160 F
Waterproof:
33 ft.
Sealing:
Fogproof internal optics
Mount:
MIL-STD-1913 rail
Field of View:
6 degrees
Features of OPMOD EXPS2 MPOIII Holosight with G23 Magnifier with OPMOD Logo and Flip Mount:
3x magnifier with Flip-To-Side mount works with all existing HWS units.
Reticle is a 65MOA circle with two 1MOA aiming dots
Single transverse 123 battery to reduce sight length
Shortened base only requires at most 2 3/4 inch of rail space
Battery cap and latch are eliminated and replaced with a simple O-ring, tethered cap; better sealing is achieved
Battery compartment is now separated from the base to allow it to hover over the delta ring of the rifle
Average battery life at brightness level 12 is roughly 600 hours
Side buttons with a single quick detach throw lever
---
---