The OPMOD EOTech MPO II Tan EXPS3 with G23 Magnifier is an exclusive combination only available from OpticsPlanet! This limited edition OPMOD MPOII holosight with Magnifier makes your weapon fully functional in close quarters combat as well as at medium-range distances, with the simple switch of a flip to side mount. A sound solution for maximizing tactical capability, the OPMOD Eotech EXPS3-0 and 3x Magnifier with 65 MOA ring and 1MOA dot reticle is the result of dedicated engineering and marketing teams spending countless hours of research and analysis of feedback of military, shooting enthusiasts and law enforcement professionals. Modern combat operation requires quickness and capability, which are two things that the EOTech (OpticsPlanet MODification) line provides with consistency.
Eotech OPMOD MPO 2 Holographic Sight with Magnifier is built for the rigors of combat and is night vision compatible with Gen I-III+ night vision devices. The included flip-to-side quick detach mount is compatible with all EOTech holographic sights. The OPMOD MPO offers instinctive both eyes open shooting plus a 7mm riser allows a lower 1/3 co-witness with iron sights. Equip yourself for tactical operation with the OPMOD EOTech Multi-Purpose Optic Tan MPO.
The OPMOD EXPS MPO uses a single lithium 123 battery with 600 hours of operation (nominal setting 12). The battery is transversely mounted, and the base requires a mere 2 3/4 inches of rail. The L3 Eotech EXPS-3 OPMOD MPO features a reticle pattern with 65 MOA ring and 1MOA dot and includes a Gen II G23 3x Magnifier with OPMOD logo, 7mm riser, FTS mount, adjustment tool and user manual.
---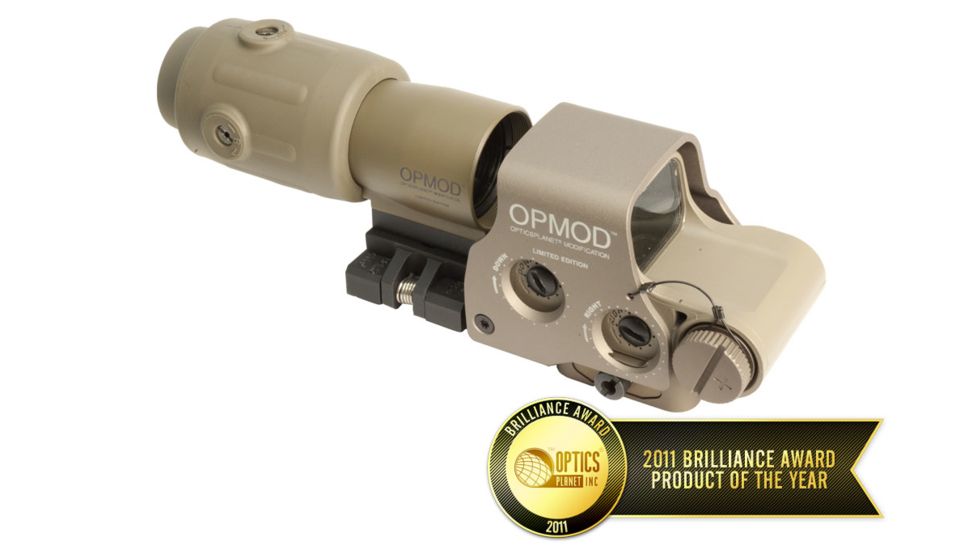 EOTech OPMOD MPO II EXPS3-0 Holosight with G23 3X Magnifier - 65 MOA ring and 1 MOA Dot Reticle, Tan
RATING
97.5 /100
Design

Excellent

Performance

Excellent

Value for money

Excellent

Feature

Excellent
Features of EOTech Opmod MPO II with EXPS3-0 and G 23 3x Magnifier:
Aiming dots may not be distinguishable without magnifcation.
Single transverse 123 battery to reduce sight length
Ballistic reticle specific to .223 caliber munitions
Compatible with Gen I-III+ Night Vision Systems (tandem operation)
Shortened base only requires at most 2 3/4 inch of rail space
Battery cap and latch are eliminated and replaced with a simple O-ring, tethered cap; better sealing is achieved
Average battery life at brightness level 12 is roughly 600 hours
Side buttons, NV compatible with a single quick detach throw lever
---
---