Celestron VistaPix Binocular/Digital Camera gives you the best of both worlds!
Celestron Vistapix 8x32  Digital Camera Binocular 3.1MP with LCD - Hunter Green 72215 is a high-quality powerful Binocular for clear, sharp, bright views of the outdoors and a versatile digital camera - all in one! Celestron VistaPix Digital Binoculars Camera is all you need to view the world around you and save those memorable moments to share with others. Celestron VistaPix Digital Camera Binoculars images can be stored using its internal mass storage until you're ready to download them to your PC. Once downloaded, the fun begins. With Vista Pix Photo Express SE Software, you can crop, re-size, manipulate color and much more. You can even record and play back videos!
What you see through your Celestron VistaPix Binocular is what Celestron VistaPix Digital Camera photographs! CelestronVistaPix 8 x 32 Digital Binoculars Camera 3.1MP 72215   captures the image at the same magnification level as seen through the binoculars. Celestron 3.1 Megapixel VistaPix Digital Camera Binocular 72215 features 8x Zoom PLUS 4-time Digital Zoom. The Color LCD can digitally zoom in on an object up to 4 times closer than seen through the binocular - that's 32x zoom magnification ! PLUS... All Celestron VistaPix Digital Camera Binoculars models can record continuous video !
Celestron VistaPix 8 x 32 mm 3 Megapixel Digital Binoculars Camera with LCD Screen gives you the tools to add that creative touch. Most important, VistaPix 8x 32mm Binocular 3.1 MP Digital Camera 72215 is from Celestron, a recognized leader in the design and manufacture of quality optical products including computerized and non-computerized telescopes, accessories, binoculars, spotting scopes, and microscopes.
All Celestron VistaPix Digital Camera Binoculars include a 2-year warranty.
Specifications for VistaPix 8x32mm Binoculars 3.1MP Digital Camera w/LCD 72215:
 Binocular Specifications:   

Size: 
 8 x 32 mm
Coating: 
 Multi-Coated
Prism: 
 Roof
FOV (Degrees): 
 5.6°
Linear FOV (ft @ 1000 yd): 
 294 ft
Tripod Adaptable: 
 Yes
Body Color: 
 Hunter Green
Weight: 
 23 oz.

 Digital Camera Specifications:   

Megapixels: 
 3.1
Image Sensor: 
 CMOS
Resolution: 
 2048x1536
Zoom: 
 4x Digital
LCD: 
 1.5" Flip-up Screen
Memory: 
 16MB Flash plus SD Card Slot
Angular Field of View: 
 7.3° x 9.1°
Focus Range: 
 49 ft. to infinity
TV Out Preview: 
  NTSC/PAL
# High-Resolution Images: 
 18 @ Max
# Low-Resolution Images: 
 12 @ High;  38 @ Med.;  100 @ Low
Exposure: 
 Auto
Continuous Video: 
 Yes
Self-Timer: 
 10 Sec.
Video (approx.): 
 3 min.@15fps.
Languages:
 Eng., Fr., Ger., Span., Chin.
Batteries (User Supplied): 
 4AAA
Features of VistaPix 8 x 32 mm 3 MP Digital Camera Binocular #72215:
Integrated Binocular/Camera Design
Continuous Video Capability
Multi-coated Optics
Tripod Adaptable
1.5" Color LCD Screen
Easy-to-locate camera function buttons
Center focus knob for binoculars
16MB Flash Memory
Removable SD memory card slot
USB Port
2-Year Warranty
---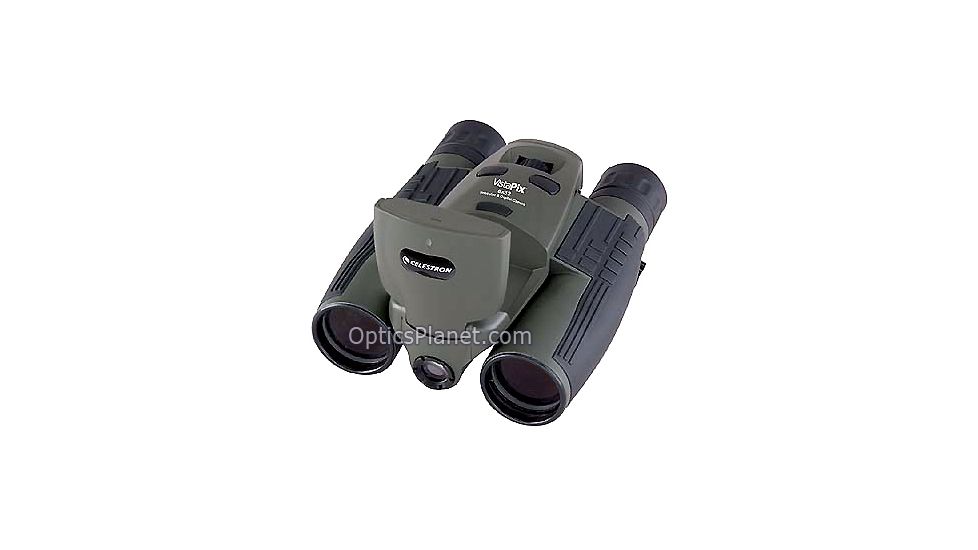 Celestron Vistapix 8x32 Digital Camera Binocular 3.1 MP w/ LCD - Hunter Green 72215
RATING
90.5 /100
Design

Excellent

Performance

Excellent

Value for money

Excellent

Feature

Excellent