We offer Nite Ize Inc. NIQ2-07-1WC 1watt LED Upgrade 2 Kit and IQ Switch for Flashlights at a discount price. We are an Authorized US Distributor for Nite Ize Flashlight Accessories. All flashlight accessories by Nite Ize from our online store come with a Full Manufacturer Warranty.
The 1 Watt LED Upgrade Kit and IQ Switch, by Nite Ize, is environmentally friendly. It minimizes battery waste and bulb replacement waste, lighting the way for our sustainable future. It has both a super-bright flood and a focused spot beam. The LED bulb is good to go for 50,000 hours of use before needing to be replaced. This upgrade by Nite Ize also helps you get excellent life from your Flashlight Accessories thanks to the adjustable power levels and auto-off feature of the IQ Switch.. Save money on bulb and battery replacement with this LED upgrade, from Nite Ize, to your Mini Maglite Flashlight.
For a full line of Nite Ize Flashlight Accessories and other products by Nite Ize on sale please visit the Nite Ize page on our website. For more brand name flash light accessories please visit our flashlights accessories store section.
---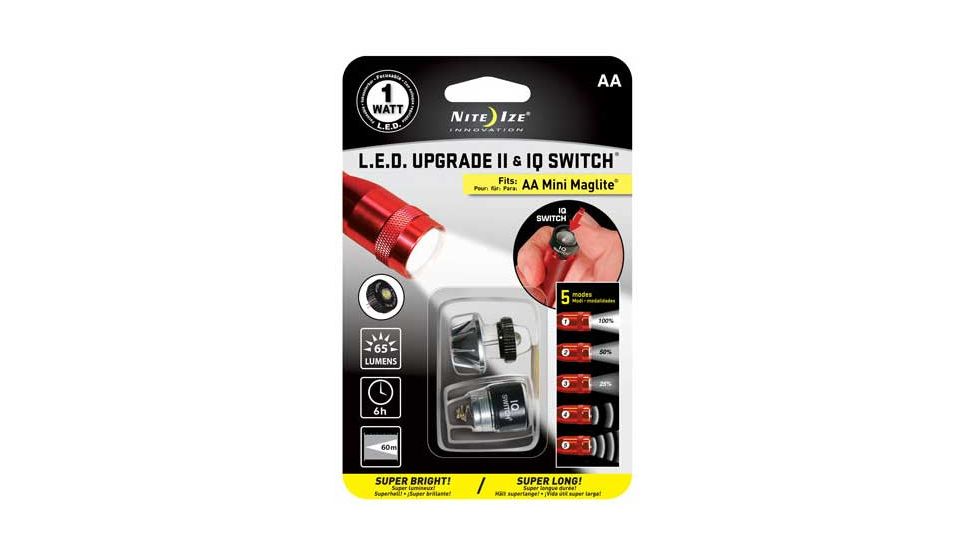 NiTe Ize 1 Watt LED Flashlight Upgrade 2 and I.Q. Switch NIQ2-07-1WC
RATING
88 /100
Design

Excellent

Performance

Excellent

Value for money

Excellent

Feature

Excellent
Features of NiteIze NIQ2-07-1WC 1 Watt LED Upgrade Kit:
50,000 hour LUXEON I LED
Excellent battery life
Environmentally Friendly
Super-bright flood and focused spot
3 Power Levels, 100%, 50%, 25%
2 Emergency Strobe Levels - fast & slow
---
---